More U.S. men choose da Vinci Surgery than any other treatment for prostate cancer, and more and more men worldwide facing prostate cancer are choosing da Vinci Surgery.
Thanks to breakthrough surgical technology, Dr. Gaertner and Dr. Knoedler can offer a minimally invasive treatment for prostate cancer – da Vinci Prostatectomy. Studies show that, compared to open surgery, experienced da Vinci surgeons achieve better cancer control – lower positive margin rates. Positive margin rates are a measure of cancer cells left behind – lower is better.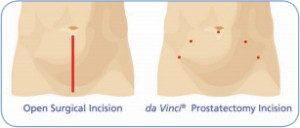 Recent studies show more patients have full return of urinary continence within 6 months as compared to patients having open surgery
Shorter hospital stay
Lower risk of complications
Lower risk of wound infection
Fewer days with catheter
Less pain
Faster recovery and return to normal activities
To learn more, check out our section on [da Vinci Prostatectomy].