---
Olympic Distance Triathlon 8 weeks after surgery!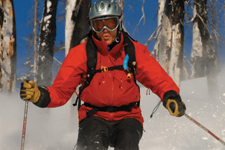 Dr. John Soucheray – da Vinci Prostatectomy patient, experienced Urologist, and lifelong avid athlete. When diagnosed with prostate cancer, there was little question about what I would do based on my 40 year experience with treating prostate cancer – surgical removal. I knew this offered the best cure rates with the least risk of side effects. When it came to picking the surgical team there was also little question about the team – Drs. Knoedler and Gaertner.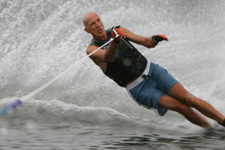 I had complete confidence in them, having worked with them in the clinic and the operating room for years.When it came to the procedure, there was little question about the approach – Robotic Surgery with the da Vinci system. Being active I knew this offered the quickest recovery with the best outcomes. One night in the hospital, one week with the catheter, normal activity in 2 weeks and an Olympic distance Triathlon at 8 weeks! In the last 3 ½ years, I've "not missed a beat".
No cancer, no pad, and normal sexual function!As you can see from the pictures, Marsha and I haven't slowed down – biking, running, skiing and especially enjoying the grandkids!! "Many thanks to John – our friend and mentor for many years, it was our honor and a privilege to care for him". – Drs. Knoedler and Gaertner
---
UroNav finds prostate cancer that standard biopsies missed.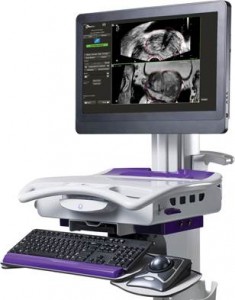 Frank was a 72 year old male with a high PSA when he came to Metro after being referred from his primary care doctor. At that time he and Dr. Gaertner decided to take a "watchful waiting approach". Two years after his first visit, his PSA had an upward spike and a standard biopsy showed a 6 Gleason score. He was worried about the side effects of a prostatectomy, but again he chose to do watchful waiting. Then after another two years, Dr. Gaertner performed a new biopsy technique on Frank called UroNav. This technology fuses an MRI image with UltraSound and allows doctors to precisely target suspicious areas and detect hard-to-find cancers. The UroNav-aided biopsy came back with a higher Gleason score than the first biopsy and prompted Frank to make the decision to go ahead with the robotic prostatectomy performed by both Dr. Bob Gaertner and Dr. Chris Knoedler.
Some friends of Frank's had been to Drs. Gaertner and Knoedler and they were very satisfied with the level of care they received, how their procedures went and their outcomes. "Looking back I would have had the prostatectomy sooner, had I known how smoothly the procedure went. Because of the new UroNav technology Dr. Gaertner was finally able to find the suspicious area in my prostate and get a result that solidified my decision to have surgery.""I felt like Dr. Gaertner was cautious and thorough and excellent at giving me the information I needed. I even went to a class before the prostatectomy so I would know what to expect. Afterwards I got daily emails from the practice asking about my pain levels and asking me to judge the level of my recovery. The email program was great and because it gave me some emotional support I didn't feel like I was felt alone after the surgery. I really liked that both Dr. Gaertner and Dr. Knoedler operated on me as a team. They are excellent doctors and surgeons and everyone I know that has gone to them says the same thing."
---
I was diagnosed with prostate cancer 5 years ago at age 57.
I was diagnosed with prostate cancer 5 years ago at age 57. A year before I witnessed a good friend deal with the same problem. The difference was our choice of doctors and treatments. My friend chose conventional surgery at Mayo which kept him in the hospital 6 days, followed by 3 weeks recovery at home. After consulting with Doctor Gaertner, my choice was the relatively new "robotic surgery" which limited my hospital stay to 22 hours and recovery time to 5 days! I was back walking 5 miles a session on my treadmill (catheter and all) 3 days post-surgery. I was able to resume my biking, running and weight-training within 3-4 weeks.While Dr. Gaertner was very clear in our consult about possible surgery side-effects, I have experienced no problems with incontinence and was able to resume normal sexual activity about 6 months later. What a blessing! I am now 63 years young, workout 2 hours 6 days a week and can almost always keep up with my 4 young grandsons. At my 5 year check-up last week I was reminded why I chose Drs. Gaertner and Knoedler for my surgery…they really care!
From the beginning I was always made to feel like I was their most important patient. My appointments were never rushed and my myriad of questions were always answered completely and honestly… what more can you ask? Since my experience 5 years ago I have meet many men who have been recently diagnosed. I always feel confident in suggesting they contact Drs. Gaertner and Knoedler because in my opinion they are "the best." – Michael S. Miller
---
When I was first diagnosed with prostate cancer it didn't come as a complete surprise.
When I was first diagnosed with prostate cancer it didn't come as a complete surprise considering my strong family history of dealing with prostate cancer. But when you hear the "C word" it becomes quite sobering.My younger brother had been diagnosed with prostate cancer 5 months prior and after doing his due diligence he chose robotic surgery with Drs. Gaertner and Knoedler. His surgery was a complete success with minimal side effects and he's back to living a normal life.
My wife and I met with Dr. Robert Gaertner and his staff about our concerns and our options moving forward. Our concerns were the cancer, incontinence and sexual dysfunction. He explained our options and the pros and cons of each. Another concern was the turp procedure I had 2 years prior. He assured us he had performed many robotic surgeries on turp patients and all were successful. Our decision was now made.
My successful surgery was done at St John's Hospital in Maplewood, Minnesota. The surgery went as planned with a 1 day hospital stay. I experienced minimal pain and took only 1 pain pill. Having a catheter for 10 days was only a bump in the road. I was surprised, and relieved, that I only used about 6 pads as incontinence was a major concern of mine. However, first and foremost, the cancer was gone.
My surgery was 1 year ago and everything has returned to normal… for my wife and I the fear of the unknown was minimized by several factors.
My brother's successful outcome using the robot.
The professionalism and competence of the doctors.
The before surgery class for both the patient and spouse. All questions were answered thoroughly and professionally.
The "detailed" after surgery follow ups.If anyone has questions regarding my surgery call 715-410-4235.
---
Thanks so much to Drs. Gaertner and Knoedler for a job well done.
Thanks so much to Drs. Gaertner and Knoedler for a job well done. Thanks also to the exceptional nursing staff, both pre-op and post op. They were great–every one of them.
---
Just wanted to state how happy and pleased I am with the operation Dr. Chris Knoedler and Dr. Robert Gaertner performed.
Just wanted to state how happy and pleased I am with operation Dr. Chris Knoedler and Dr. Robert Gaertner performed on me. I'm pleased to report I'm ahead of schedule on my recovery process and no longer need pads and heard that "no Cancer had spread outside of my prostate". I will start working out again today. I plan on swimming first then get back into jogging and bike riding (indoors of course) this is MN in the winter! Thanks again to two very talented individuals!