Lipschultz Guest Apartments
A Unique Service for Visitors and Families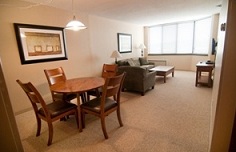 United Hospital offers the Lipschultz Guest Apartments as a service to accommodate the needs of patients' families.
The Lipschultz Guest Apartments, located just across the street from United Hospital, in Irvine Park Towers, offer comfort and convenience for families who need overnight accommodations. Every patient and family who comes to United Hospital for treatment or surgery may use the guest apartments.
The Lipschultz Guest Apartments contain many of the amenities of home, plus the added convenience of housekeeping services.
However, you must be self-sufficient and medically stable, or have a companion to help you during your stay as there are no nursing services available at the Lipschultz Guest Apartments.
Each apartment contains comfortable furniture, TV, DVD and a well-equipped kitchen.
Hotels
St.John's Hospital vicinity
---
United Hospital vicinity