---
Outcomes
Small delicate nerves responsible for erectile function run adjacent to the prostate. Trauma or injury to the nerves during surgery may result in impotence.
Potency
Below is our post operative potency data of ALL healthy patients less the 70 years old who were capable of sexual penetration preoperatively – (ASA 1 and ASA 2).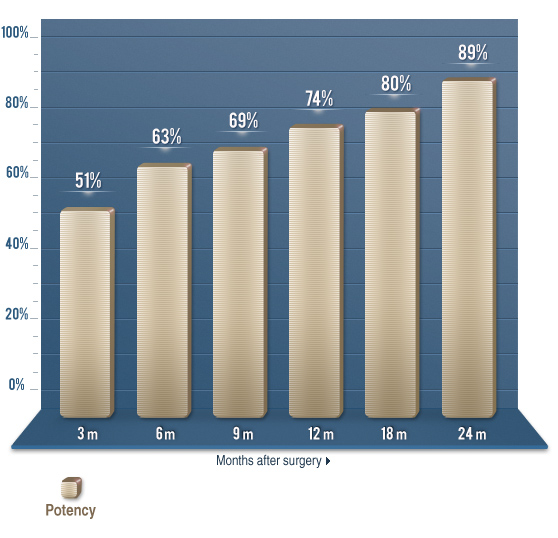 Erectile function continues to improve with time. Two years after a robotic prostatectomy, 89% of this group of patients are capable of sexual penetration.
Quality of Erection
Recently we surveyed 450 consecutive robotic prostate cancer patients in our office inquiring about erectile function. Patients were asked to fill out an IIEF-5 survey (Standardized form to assess Erectile Function). All patients were at various stages in their care. The IIEF-5 surveys were tallied and scored. Depending on the score, patients were categorized as follows:
5 – 7 severe erectile dysfunction (ED)
8 – 11 moderate ED
11 – 16 mild / moderate ED
17 – 21 mild ED
22 – 25 normal erectile function
RESULTS OF IIEF-5 The results below indicate most patients achieve preoperative erectile function quality.