Healthgrades, the leader in helping consumers make informed choices about healthcare providers, recently awarded Saint John's Hospital a 5-Star rating for prostatectomies. Both Dr. Gaertner and Knoedler perform most of their robotic prostatectomies at St. Johns.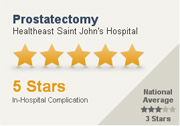 Due in part to the large volume of their robotic practice, St John's is one of only sixteen hospitals in the country to be in both the "Top 100" for robotic procedures for both Urology and Gynecology.
To see all the Healthgrade ratings for St John's Hospital [Click Here].